Canon 680/681 compatible ink tanks stop getting recognized. Why..?
Date Posted:1 February 2020


Canon have made some changes to the ink monitor disabling process - with certain late model printers (eg. Canon Pixma TR8500, TS6300, TS8100, TS8200, TS8300, TS9100, TS9500) and more than likely any future models.
Note: If you're in a different country than Australia or NZ, your Canon cartridge numbers would be different to above (680/681) ...eg 180/181, 280/281, 380/381, 480/481, 580/581, 780/781, 880/881, but the same info applies.
So ... what does the ink monitor do?
Ink monitor is a utility that estimates how much ink a printer is using and converts the data into a visual ink level display (ink gauge).
Another ink monitor function is to stop the printer working - before any ink runs out. Handy feature that can extend printhead life, but at the same time a major obstacle - if you want to refill the ink cartridges.
Good news...
Canon ink printers offer refillers the option to disable the ink monitoring (have always done so). With the monitoring disabled, the ink level gauge stops functioning (indicates empty), but the printer continues working regardless.
This means that empty ink tanks can be refilled and should get accepted by the printer ok.
Note: Other ink printers (eg. Epson or Brother) don't offer this feature, so a chip resetter or auto-reset chips are required, to be able to re-use empty cartridges.
Ok ... what's the catch?
Canon still offer users the option to disable the ink monitoring, but with the latest models only if using genuine Canon ink tanks/cartridges. Attempting to disable the monitor with compatible or refillable tanks fitted will not work and the ink tank may stop getting recognized in the process - requiring replacement.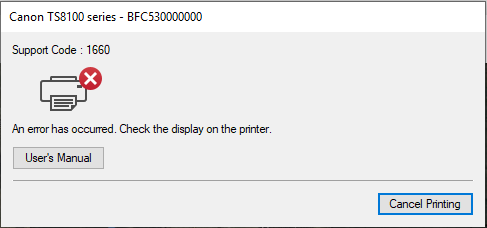 Non genuine ink tanks will get recognized ok initially and work perfectly well, but only until the printer reports 'ink out' condition. At that point any non genuine tank may stop getting recognized, even if it had worked fine until then.
Note: Keeping ink tanks topped up and never running out of ink makes no difference at all, as far as the monitoring goes. Actual ink levels are not relevant, as Canon printers don't monitor actual levels.
Is there a solution?
As long as your ink tanks still get recognized ok, you will be able to reset the chips and use them again - when 680/681 chip resetters are available.
If you want to do that, top up the tanks and cap the ink outlets, before putting them away for storage. Storing ink tanks empty or not sealed for any length of time will dry the internal sponges out.
In the meantime ... if you don't print very much - you can refill and use the Setup tanks that came with your printer. If you don't have those any more or print a fair bit, get some genuine XL/XXL tanks. Canon genuine tanks are quite easy to refill. Find instructions here:
Please contact us if you need more information.
---
Leave a comment