Canon 680/681 genuine ink tanks leaking? Learn why...
Date Posted:24 December 2019


Having trouble filling genuine Canon 680/681 ink tanks?
Canon PGI-680 and CLI-681 genuine ink tanks are some of the easiest cartridges to refill, yet even experienced refillers can strike the odd ink tank leaking problem for no apparent reason. In this post we'll look at why this is and what to do about it
Note: If you're in a region other than Australia or NZ, your Canon ink cartridges/tanks may use different part numbers (eg: PGI-180, 280, 380, 480, 580, 780, 880 and CLI-181, 281, 381, 481, 581, 781 or 881 etc) but the cartridges are identical and same information should apply to cartridges in your part of the world.
So...why do 680/681 ink tanks leak?
Wrong refilling method or not using the right plugs or ink can be blamed for most leaking issues with PGI-680 & CLI-681 Canon ink tanks...
Some common causes:
not sealing the ink outlet before adding ink

ink hole plug not sealing or had fallen out

ink tank sponge old/dried up

ink tank sponge overfull

damaged ink tank casing

incorrect ink
All these issues are fairly simple to avoid just by following accurate refilling instructions and using quality refill ink.
Find refill instructions for Canon 680/681 ink tanks here.
And then there's a bonus problem specific to genuine Canon PGI-680 & CLI-681 standard ink tanks!
Canon genuine ink tanks have always provided a convenient filling hole (hidden) underneath the cartridge label. All you had to do was scrape part of the label off, remove the existing plastic ball plug behind it... and you had an instant, easy to plug filling hole.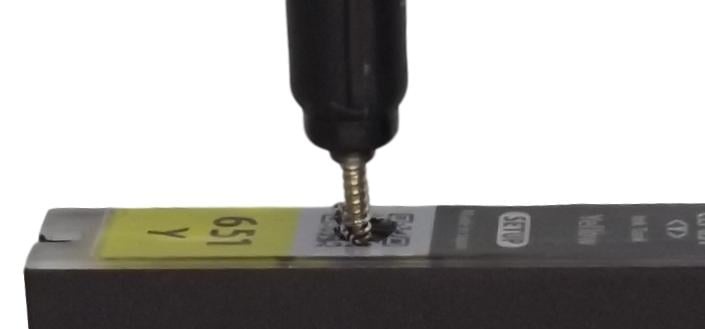 Removing genuine ink hole plug
And if you're using genuine Canon 680/681XL, XXL or SETUP ink tanks, you still can.
But...filling genuine PGI-680 or CLI-681 standard capacity tanks this way will not work and any ink injected inside these tanks - will end up on the outside in no time at all.
Tip: If you remove the QR code part of the label and find a 'convenient' open hole with no plug inside it - DON'T use it. It is a trap! Find correct refill instructions here.
Can a leaking ink tank be 'fixed'?
No, but unless you installed the leaking ink tank already and damaged the printer in the process, it is possible to rinse the ink out of the leaking ink reservoir, wash the ink off the chip and refill the tank using a different method as described here.
So, now you know...
InkBank Canon 680/681 ink refill kits include everything you need to refill any size genuine ink tanks including comprehensive refill instructions, plugs, tools, ink outlet clips, syringes and a quality ink set.
Alternatively you can find refillable, XXL capacity 680/681 transparent,ink tanks here.
Please contact us if you need more information.
---
Leave a comment