Brother LC133, LC233 refill friendly cartridges - How to refill


Refill friendly LC133 & LC233 ink cartridges can make refilling Brother printers extremely economical and easy - if you know what to do.
This page explains how to fill them...
Note: These instructions can also be used with most (not all) compatible Brother ink cartridges and printers.
Refilling steps for LC133 & LC233 refill friendly ink cartridges:
1) Remove empty ink cartridge from printer. Find the ink outlet on the front and the air-hole on side of the cartridge (or elsewhere - if different model cartridge).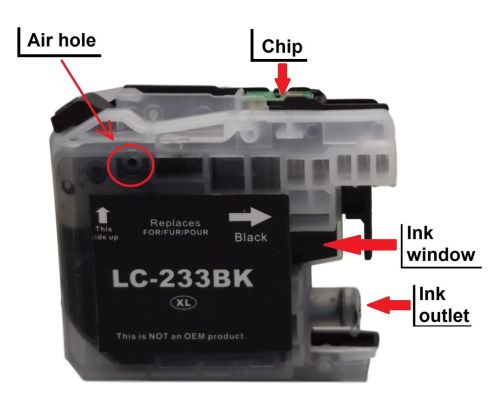 2) Fold up couple of tissues or a paper towel - to form a square about 25 x 25mm in size and place it over the air hole. Use a rubber band to keep it in place. This is to prevent any ink spitting out the air hole during refilling.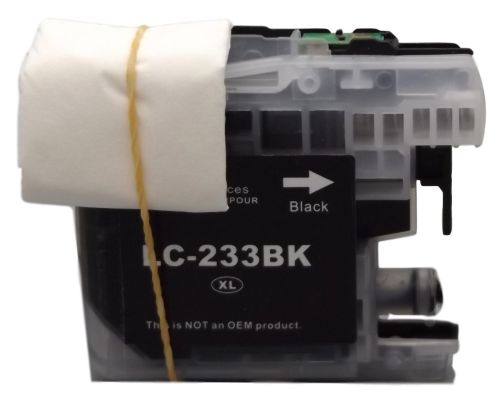 3) Securely screw the supplied filling adapter - to a syringe (unless pre-assembled). Don't over-tighten the connection.
4) Fill the syringe with ink - by dipping the adapter in ink bottle and slowly pulling the plunger to approximately 11ml mark.
5) Hold the cartridge upright and insert the adapter tip inside the ink outlet - as far as it will go. There is a valve inside that needs to open.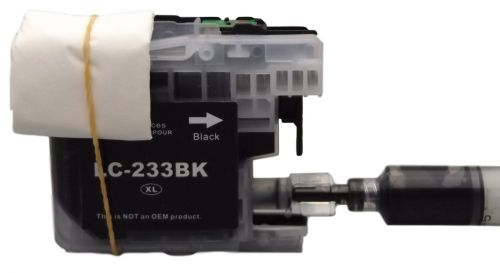 6) While holding the adapter tip inside, gradually push the plunger in - to release the ink. When the syringe is empty, draw the plunger back to 1ml mark to prime the ink outlet.

7) Repeat steps 4-6 again if filling a black cartridge. Black XL hold 20ml of ink, colour XL hold 10ml. Don't overfill!
8) Remove syringe assembly from outlet, return any ink back in bottle and rinse syringe in clean tap water.
9) Discard air hole tissue cover.
10) Reset the chip and install cartridge in printer.
Congratulations...another successfully filled Brother cartridge!
Need more info? Contact us.